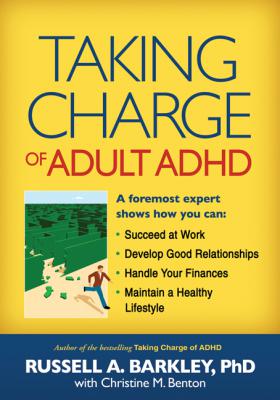 Taking Charge of Adult ADHD
Finally, an authoritative one-stop resource to help you take back your life from ADHD.
Summary
If you're among the millions of adults with ADHD—or think you might be—you need the latest scientific facts about the disorder and its treatment. You need practical strategies to help you concentrate, pay attention, get organized, and gain control over your emotions and actions. And you need effective ways to develop your strengths and achieve your goals, whether on the job, in family relationships, or in personal pursuits. From renowned ADHD researcher/clinician Russell A. Barkley, this is the book for you. Sharing candid stories from others who struggle with the disorder, Dr. Barkley describes easy-to-learn techniques you can use every day to manage your symptoms and build skills for success. He also provides clear answers to frequently asked questions about medications and other treatments. Finally, an authoritative one-stop resource to help you take back your life from ADHD.
"This wonderful book presents information and sharp clinical insights accrued over decades of work by a preeminent leader in the field. Dr. Barkley clearly and thoughtfully discusses the causes of adult ADHD and how to get diagnosed and treated. A 'must read' for anyone interested in learning more about adult ADHD."
—Lenard Adler, MD, author of Scattered Minds; Department of Psychiatry, New York University School of Medicine
"Dr. Barkley's advice to individuals who have ADHD (or think they might) represents a remarkable blend of science and practicality. This book offers a lifeline to adults with ADHD and their families."
—Michael Gordon, PhD, Director, ADHD Program, Department of Psychiatry, State University of New York Upstate Medical University
News From ADD WareHouse and MyADHD.com
Learn about new books, treatment and assessment tools, ADHD research, articles, Q & A and more.
A.D.D. WareHouse
3150 Willow Lane, Weston, FL 33331

Call Mon-Fri 9:00 am to 4:30 pm
Phone: 954-412-1332
Fax 954-206-6955
© Copyright 2021- - A.D.D. WareHouse / Specialty Press Inc.