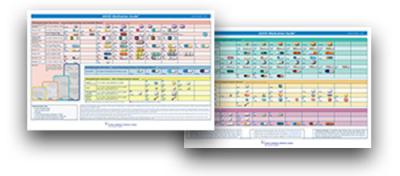 ADHD Medication Guide
The ADHD Medication Guide is a visual aid for professionals caring for individuals with ADHD. Newest content updated November 2019.
Quantity discount for 4 - 9 is $11.95 and for 10 or more $10.95 apiece.
The ADHD Medication Guide contains the most recent content on medications to provide current information.
The guide is a visual aid for professionals caring for individuals with ADHD. The guide includes only medications indicated for the treatment of ADHD by the FDA. In clinical practice, this guide may be used to assist patients in identifying medications previously tried and may allow clinicians to identify ADHD medication options for the future. Medications have been arranged on the card for ease of display and comparison, but dosing equivalence cannot be assumed. Practitioners should refer to the FDA-approved a information to learn more about each medication.
Features:
Laminated 17.75"w and 11.75"h for durability and water-resistance
Includes color photos of all doses of brand name medications listed
Allows easy side-by-side comparison of similar products
Medication groupings are color-coded for easy viewing and reference
Can highlight images with washable color markers and then wipe completely clean
Grouped by medication type, not by manufacturer
Specifies which medications can be chewed, sprinkled on food, dissolved in liquid, or must be taken whole
News From ADD WareHouse and MyADHD.com
Learn about new books, treatment and assessment tools, ADHD research, articles, Q & A and more.
A.D.D. WareHouse
3150 Willow Lane, Weston, FL 33331

Call Mon-Fri 9:00 am to 4:30 pm
Phone: 954-412-1332
Fax 954-206-6955
© Copyright 2020 - A.D.D. WareHouse / Specialty Press Inc.