ADHD School Observation Code Kit
ON SALE!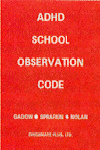 Manual and package of 25 classroom coding sheets
News From ADD WareHouse and MyADHD.com
Learn about new books, treatment and assessment tools, ADHD research, articles, Q & A and more.
A.D.D. WareHouse
3150 Willow Lane, Weston, FL 33331

Call Mon-Fri 9:00 am to 4:30 pm
Phone: 954-412-1332
Fax 954-206-6955
© Copyright 2021- - A.D.D. WareHouse / Specialty Press Inc.