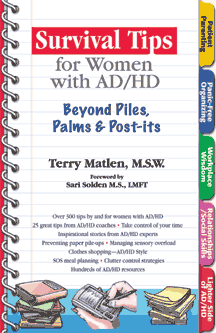 Survival Tips for Women with AD/HD
An outstanding compilation of practical solutions to everyday problems for women with AD/HD.
Terry Matlen has gone directly to the source to bring an outstanding compilation of practical solutions to everyday problems for women with AD/HD. Her contributors include a global network of clever, creative women with AD/HD, as well as premier AD/HD experts, coaches, and professional organizers. Readers will get a wide variety of ideas to help you:
Organize your home and office
Parent with patience and perseverance
Take the anxiety out of meal planning
Manage the endless stacks of papers
Remember the priorities that deserve your attention


What the experts are saying about Survival Tips for Women with AD/HD

"Anytime you need an understanding friend, just open to any page and you are likely to find the kind of help and support you need in Survival Tips for Women with AD/HD." —Sari Solden, M.S., LMFT, author of Women with Attention Deficit Disorder and Journeys Through ADDulthood

"A unique blend of professional advice combined with real solutions provided by women with AD/HD makes Survival Tips for Women with AD/HD both practical and inspirational." —Patricia Quinn, MD Director, The National Center for Gender Issues and AD/HD

"…filled with bits and pieces of wit and wisdom shared with heart and humor….strategies and stories will leave you inspired, encouraged and armed with new ideas.—Michele Novotni, Ph.D., international lecturer, author of Adult AD/HD: A Reader Friendly Guide and What Does Everybody Else Know that I Don't?

"Next to the fire extinguisher, this book could well be the most important survival tool in the household of every woman with AD/HD!" —Thom Hartmann, author, ADD: A Different Perception and The Edison Gene

Chapters
1 From Me to You: Validating Your Experiences
2 Carry That Weight: What You Don't Know Can Hurt You
3 Here There and Everywhere: Specifics of Organizing
4 Strawberry Fields: Meals and Entertaining
5 Fixing a Hole: Household Chores
6 She's a Woman: Personal Tips on Shopping, Health, and Hypersensitivities
7 I Should Have Known Better: School
8 A Hard Day's Night: Work
9 Any Time at All: Time and Data Management
10 We Can Work it Out: Relationships and Social Skills
11 Come Together: Parenting and Family
12 Taxman: Managing Finances
13 I've Just Seen a Face (But I Can't for the Life of Me Remember the Name): Memory Tips
14 Revolution: Technology
15 With a Little Help from my Friends: Humor for the Soul
16: Help!: Tips from Coaches and Professional Organizers
17 …speaking words of wisdom: Top AD/HD Experts Share Their Stories
18 Savoy Truffle: SOS Recipes
19 Do You Want to Know a Secret?: Books, Web sites, Newsletters, and More References Appendices Index
News From ADD WareHouse and MyADHD.com
Learn about new books, treatment and assessment tools, ADHD research, articles, Q & A and more.
A.D.D. WareHouse
3150 Willow Lane, Weston, FL 33331

Call Mon-Fri 9:00 am to 4:30 pm
Phone: 954-412-1332
Fax 954-206-6955
© Copyright 2021 - A.D.D. WareHouse / Specialty Press Inc.