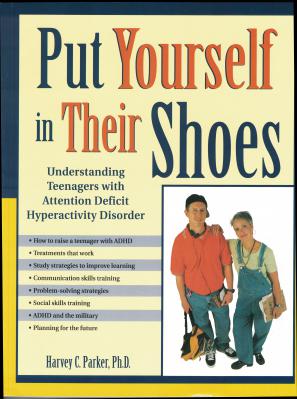 Put Yourself in Their Shoes
One of the first books for parents of teenagers with ADHD. A great resource to help families improve communication, work with schools, understand medications for ADHD, and much more.
Summary
Put Yourself in Their Shoes tries to do just what the title says - give the reader a sense of what it is like to be an adolescent with attention- deficit/hyperactivity disorder (ADHD). Put Yourself in Their Shoes contains up-to-date information on how ADHD affects the lives of adolescents at home, in school, in the workplace, and in social relationships. Whether you are just learning about ADHD or are knowledgeable about this common problem, you will find Put Yourself in Their Shoes informative. Although primarily written for parents, educators, health professionals and teenagers with ADHD will benefit from this comprehensive work.
Contents
Put Yourself in Their Shoes
Associated Problems
A Closer Look at Teenagers with ADHD
Causes of ADHD
Controversial Treatments for ADHD
Getting a Good Assessment
Medications to Treat ADHD
Guiding Your Adolescent
Building Communication Skills in Your Family
Problem Solving Strategies with Adolescents
Using a Home Token Economy to Encourage
Helping Adolescents with ADHD Succeed in School
Study Strategies to Improve Learning
Social Skills Training
Parents as Advocates: Legal Rights of Students with ADHD
ADHD, Delinquency, and the Juvenile Justice System
Substance Abuse in Adolescents
College, Vocational Education, and the Work Force
ADHD and the Military
Resources
Suggested Reading and Videos
Cited References
Index
Additional Worksheets
News From ADD WareHouse and MyADHD.com
Learn about new books, treatment and assessment tools, ADHD research, articles, Q & A and more.
A.D.D. WareHouse
3150 Willow Lane, Weston, FL 33331

Call Mon-Fri 9:00 am to 4:30 pm
Phone: 954-412-1332
Fax 954-206-6955
© Copyright 2021- - A.D.D. WareHouse / Specialty Press Inc.