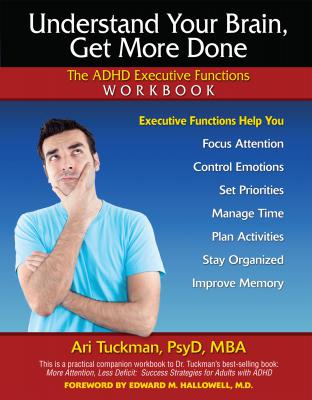 Understand Your Brain, Get More Done
Great workbook from best-selling author, Ari Tuckman, Ph.D. Designed to help adults with ADHD improve organization, time management, planning, working memory and other executive functions.
Summary
On backorder through September 30, 2018. By understanding how much the ADHD brain processes information, we can create strategies that are more likely to be successful. Dr. Tuckman describes the executive functions that are involved in ADHD and how they affect your day to day life. He then offers practical strategies to help you be more consistent and effective. The plentiful exercises in this workbook will help you apply these ideas and overcome the barriers that have gotten in your way before. This workbook is all about getting things done.
This workbook...
Is based in the latest science
Helps you understand how your brain works
Shows you what executive functions are and how they affect you
Puts good ideas to work in your day to day life to help you function better
Walks you through a process of real change to improve your life
"Dr. Tuckman's book provides realistic, practical, and useful information for those with adult ADHD. Not only is the book enlightening, but it also is fun to read. The exercises in the book are educational, easy to complete, and give great insight into the world of adult ADHD..." Stephanie Moulton Sarkis, Ph.D., NCC, LMHC
Dr. Tuckman continues to do an exceptional job of distilling the essence of theory and science about ADHD into a very practical guide for the adult with ADHD.
–Russell A. Barkley, PhD
News From ADD WareHouse and MyADHD.com
Learn about new books, treatment and assessment tools, ADHD research, articles, Q & A and more.
A.D.D. WareHouse
3150 Willow Lane, Weston, FL 33331

Call Mon-Fri 9:00 am to 4:30 pm
Phone: 954-412-1332
Fax 954-206-6955
© Copyright 2021- - A.D.D. WareHouse / Specialty Press Inc.