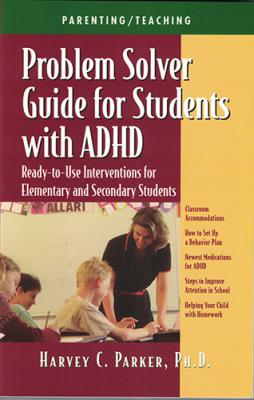 Problem Solver Guide for Students with ADHD
Best selling guide by Dr. Harvey C. Parker, co-founder of CHADD. Filled with literally hundreds of quick tips and practical suggests to help elementary and secondary students with ADHD.
Summary
This quick reference guide for busy teachers and parents who are looking for proven classroom strategies and parenting tips for children of all ages with ADHD ( with or without hyperactivity). Perfect for writing accommodation plans and IEPís, teaching social skills, and helping students learn study strategies. Hundreds of accommodations and interventions for school and home:
Reduce Disruptive Behavior
Improve Attention
Set up a classroom behavior plan in just a few steps
Implement strategies to improve reading comprehension, math skills, and to help students with written language problems
Develop a behavior plan at home
Strategies to teach social skills
Study strategies to improve organization, time-management, note-taking, test preparation, studying, writing papers, etc.
Newest medications to treat ADHD
Contents
Chapter
A Quick Look at ADHD
Strategies to Help with Academic Skill Problems
Strategies to Help with behavior and Academic Performance
Strategies to Help Students Who are Inattentive but Not Hyperactive or Impulsive
Seven Principles for Raising a Child with ADHD
Strategies to Help Students with ADHD and Other Psychological Disorders
Teaching Study Strategies to ADHD Students
Teaching Social Skills to ADHD Students
Strategies to Help Students Who Have Problems with Homework
A Quick Reference Guide to Medications for ADHD
Parents as Advocates: Helping Your Child Succeed in School
Communicating with Parents
National Organizations and Resources
Suggested Reading
Index
News From ADD WareHouse and MyADHD.com
Learn about new books, treatment and assessment tools, ADHD research, articles, Q & A and more.
A.D.D. WareHouse
3150 Willow Lane, Weston, FL 33331

Call Mon-Fri 9:00 am to 4:30 pm
Phone: 954-412-1332
Fax 954-206-6955
© Copyright 2021- - A.D.D. WareHouse / Specialty Press Inc.