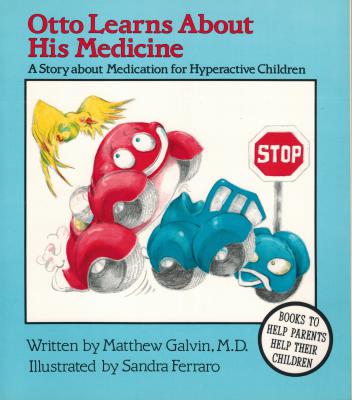 Otto Learns About His Medicine
Last chance, only 1 left in stock!
Ages 4-8. A classic in the field of ADHD. Through cartoon illustrations and text children learn about ADHD.
Summary
Otto is a high-octane young car whose motor runs too fast. He also has trouble pauing attention in school, is easily distracted, and says and does things without thinking. Otto and his parents visit a pit crew of special mechanics, who prescribe a medicine to help slow down Otto's racing motor and help him find ways to become more focused and organized.
This new edition of a classic resource for young children and their families includes the latest advances in the understanding of ADHD. An expanded Note to Parents by the author discusses treatment approaches and current findings about medications, including their possible side effects.
Reviews
"The real test was our son, who thought it was terrific, the best."
—Member, CHADD (Children and Adults With ADD), New York City Chapter
"Otto is an ideal vehicle for helping young children understand their difficulties."
—California Association of Resource Specialists
News From ADD WareHouse and MyADHD.com
Learn about new books, treatment and assessment tools, ADHD research, articles, Q & A and more.
A.D.D. WareHouse
3150 Willow Lane, Weston, FL 33331

Call Mon-Fri 9:00 am to 4:30 pm
Phone: 954-412-1332
Fax 954-206-6955
© Copyright 2020 - A.D.D. WareHouse / Specialty Press Inc.