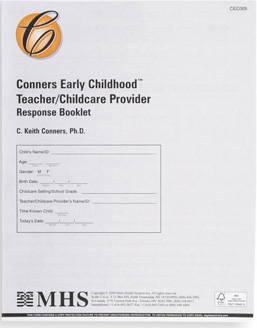 Conners Early Childhood Teacher/Childcare Provider Response Booklet
This is a packet of Teacher/Childcare Provider Response Booklets (186 items). Ratings are made in a Response Booklet and then scored using the Conners EC software (additional cost). Software is NOT MAC compatible. 25 booklets per package.
News From ADD WareHouse and MyADHD.com
Learn about new books, treatment and assessment tools, ADHD research, articles, Q & A and more.
A.D.D. WareHouse
3150 Willow Lane, Weston, FL 33331

Call Mon-Fri 9:00 am to 4:30 pm
Phone: 954-412-1332
Fax 954-206-6955
© Copyright 2020 - A.D.D. WareHouse / Specialty Press Inc.