Conners CAARS Adult ADHD Rating Scales - CAARS-O-S Quikscore Forms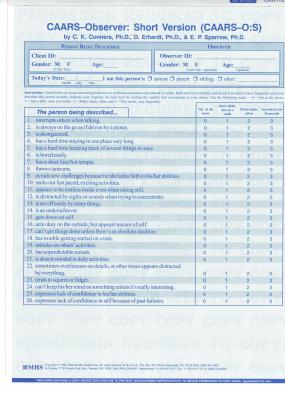 Conners CAARS Adult ADHD Rating Scales - CAARS-O-S Quikscore Forms
This is the short form CAARS observer-report scales. Handscored. 25 per package.
The Conners' Adult ADHD Rating Scales (CAARS) fulfill the need for a reliable and valid measure of ADHD symptoms for use with adults. The CAARS provide a multimodal assessment of symptoms and behaviors associated with ADHD in adults aged 18 and older. The CAARS are a set of easily administered instruments consisting of self-reports and observer ratings allowing for the multimodal assessment of adult symptoms and behaviors. Normative data for the self-report forms consist of 1,026 non-clinical adults (ages 18-80), while normative data for the observer forms are based on spouses, family members or friends of 943 non-clinical adults (ages 18-80). The CAARS employs the easy-to-use MHS QuikScore format for administering, scoring, and profiling, and separate norms are available by gender and age-group intervals.
CAARS QuikScore forms are available in long, short, and screening versions. Scale descriptions and administration times for each version are described below. Scoring the CAARS will take about 10 minutes using the handscorable QuikScore form.
Short Versions
The short versions of the observer form (CAARS-O-S) contain 26 items and are abbreviated versions of the factor-derived subscales that appear on the long forms. As with the long version, the ADHD index and the Inconsistency Index are incorporated on these forms. The short versions require about 10 minutes to administer and were designed to be brief and to display key dimensions.
Note:This is a b-level product. Sale of this product is restricted to qualified purchasers in accordance with the ethical and professional standards of the American Psychological Association and the Standards for Educational and Psychological Testing. Purchasers must establish a qualification level with ADD WareHouse. Qualification forms submitted by 4 PM will be processed that business day and notification will be sent by email. Forms submitted after 4 PM will be processed the next business day.
You can complete the Online Qualification Form Online and send it with your first order or fax a downloaded form to (954) 792-8545. Download a Qualification Form
News From ADD WareHouse and MyADHD.com
Learn about new books, treatment and assessment tools, ADHD research, articles, Q & A and more.
A.D.D. WareHouse
3150 Willow Lane, Weston, FL 33331

Call Mon-Fri 9:00 am to 4:30 pm
Phone: 954-412-1332
Fax 954-206-6955
© Copyright 2021- - A.D.D. WareHouse / Specialty Press Inc.