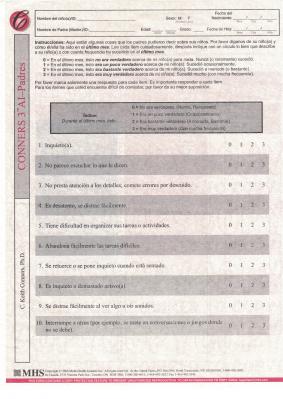 Conners 3 ADHD Index (AI) Spanish Padres QuikScore Forms
This 10 item ADHD Index scale in Spanish differentiates between youth with ADHD from the general population. It can be used for screening individuals, monitoring treatment plans, measuring response to intervention, or when time is limited. Handscored forms. 25/pkg.ADHD Index Forms, 25/pkg
The Conners 3 moves forward with a refreshed 10-item Conners 3 ADHD Index (Conners 3AI) in Spanish. The items are taken from the Conners 3 full length form and are the perfect tool when time is of the essence. The brief index also works well when you need to screen a large group of children and adolescents to see if further assessment of ADHD is warranted. Additionally, this form can be used to monitor the effectiveness of treatment plans, and measure the patientís response to intervention.
The items were specifically selected for this form and are proven to be the best items in differentiating between youth with ADHD from those without a clinical diagnosis.
The Conners 3AI is included in the full length Conners 3 or can be purchased separately. Spanish versions are available for parent and self-report forms.
Ages: 6-18 yrs.
Administration: Parent-Completed
Teacher-Completed, Self Report-Completed
Administration Time: 5-10 Minutes
Qualification Level: B
Format: Handscored, Unlimited Use Software
Key Areas Measured: Attention-Deficit/Hyperactivity Disorder (ADHD)
News From ADD WareHouse and MyADHD.com
Learn about new books, treatment and assessment tools, ADHD research, articles, Q & A and more.
A.D.D. WareHouse
3150 Willow Lane, Weston, FL 33331

Call Mon-Fri 9:00 am to 4:30 pm
Phone: 954-412-1332
Fax 954-206-6955
© Copyright 2021- - A.D.D. WareHouse / Specialty Press Inc.