ASRS Complete Handscored Kit with DSM-5 Update, Ages 2-5 and Ages 6-18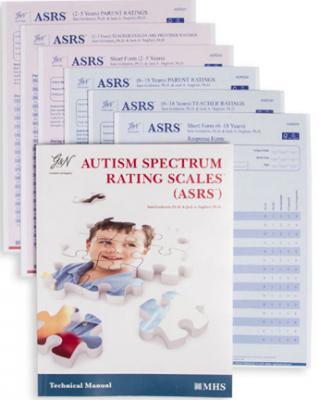 ASRS Complete Handscored Kit with DSM-5 Update, Ages 2-5 and Ages 6-18
Includes Manual, 25 [2-5 yrs] Parent Ratings/Teacher/Short QuickScore Forms, and 25 [6-18 yrs] Parent/Teacher Short QuickScore Forms
Reports
There are three report types for all ASRS forms.
Interpretive Reports are comprehensive and present scores numerically and graphically.
Progress Monitoring Reports compare the results of two to four administrations from the same rater to measure changes over time. These reports are ideal when monitoring treatment and intervention.
Comparative Reports allow for a multi-rater perspective by comparing results of up to five different raters.
Normative Data
The ASRS was standardized on 2,560 cases from across the United States. The standardization includes 640 cases for the ASRS (2-5 years), with 320 parent and 320 teacher forms. Additionally, it included 1,920 cases for the ASRS (6-18 years), with 960 parent and 960 teacher forms. Over 1,200 clinical cases were also collected. The disorders in the clinical sample include:
ASD (Autistic Disorder, Asperger's Disorder, and Pervasive Developmental Disorder-Not Otherwise Specified)
Attention-Deficit/Hyperactivity Disorder
Mood and Anxiety Disorders
Developmental Delay
Learning Disorders
Communication Disorders
News From ADD WareHouse and MyADHD.com
Learn about new books, treatment and assessment tools, ADHD research, articles, Q & A and more.
A.D.D. WareHouse
3150 Willow Lane, Weston, FL 33331

Call Mon-Fri 9:00 am to 4:30 pm
Phone: 954-412-1332
Fax 954-206-6955
© Copyright 2020 - A.D.D. WareHouse / Specialty Press Inc.