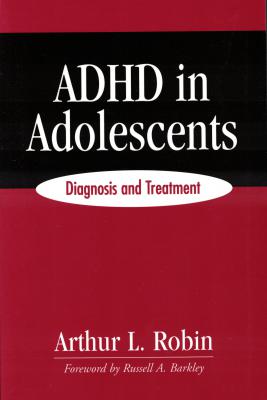 ADHD in Adolescents
This highly practical guide presents an empirically based "nuts-and-bolts" approach to understanding ADHD in adolescents.
Summary
This highly practical guide presents an empirically based "nuts-and-bolts" approach to understanding, diagnosing, and treating ADHD in adolescents. Practitioners learn to conduct effective assessments and formulate goals that teenagers can comprehend, accept, and achieve. Educational, medical, and family components of treatment are described in depth, illustrated with detailed case material. Included are numerous reproducible handouts and forms.
Reviews
"If I were asked to select only two or three books that I would consider essential to clinical practice in relation to adolescents with ADHD, this book would head the list. It should be readily available to every clinician who works with adolescents and their families."
-George W. Hynd, EdD
"An excellent resource for both therapists and educators."
-Craig A. Everett, PhD
"Dr. Robin's approach is especially successful in balancing medical and psychological aspects of treatment....Unlike many other works on ADHD, the book specifically addresses important psychological characteristics of adolescence that affect this age group's understanding and acceptance of treatment."
-Esther H. Wender, MD
"Robin's careful focus on both broad concepts and the details of the clinical process addresses an array of important topics in an area that is too often ignored."
-Michael Gordon, PhD
Contents
Definitions, Descriptions, and Theory Introduction

Definitions and Diagnostic Criteria
Follow-Up Studies and Theoretical Models

Evaluation and Diagnosis Introduction

Medical Evaluation and Rating Scales
Interviewing and Determining Comorbidities/Differential Diagnoses
Cognitive Testing, Educational Impairment, and Laboratory/Observational Measures
Integration of Data

Treatment Introduction

Educating Families about ADHD
Medical Interventions, with Howard Schubiner
Enhancing Academic Success
Parenting and Family Interventions
Family and Home Management Techniques
Restoring Parental Control and Other Structural Interventions
Phasing Out and Follow-Up
Two Adolescents Tell Their Stories Epilogue


Appendix: Medication Research
News From ADD WareHouse and MyADHD.com
Learn about new books, treatment and assessment tools, ADHD research, articles, Q & A and more.
A.D.D. WareHouse
3150 Willow Lane, Weston, FL 33331

Call Mon-Fri 9:00 am to 4:30 pm
Phone: 954-412-1332
Fax 954-206-6955
© Copyright 2021- - A.D.D. WareHouse / Specialty Press Inc.