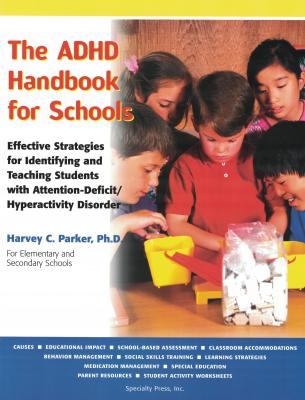 The ADHD Handbook for Schools
Provides educators with practical information to understand children with ADHD in elementary and secondary schools.
Summary
"This book is a tremendous resource for teachers, providing essential tools and knowledge. It should be part of every educator's personal library for daily reference."
Dr. Vera Joffe, author of Um Dia na Vida de Um Adulto com TDAH (A Day in the Life of an Adult with ADHD)

"The ADHD Handbook for Schools is THE one-stop-shop for everything you ever wanted to know about the student with ADHD. Everything you need is at your fingertips. A complete, comprehensive resource for teachers, parents and anyone else who supports children with ADHD. I will be recommending this book to parents, teachers and colleagues."
Terry Matlen, MSW, ACSW, author of Survival Tips for Women with AD/HD and director of www.addconsults.com and www.myADD store.com

Classroom teachers, guidance counselors, school psychologists, and school administrators are quite familiar with students who have trouble paying attention, learning, staying organized, and managing behavior. These children may have signs of Attention-Deficit/Hyperactivity Disorder (ADHD), a neurobiological condition that can be successfully managed and treated. Now, educators, parents and health care professionals can work together to provide help for these children so they won't miss important learning opportunities in school!
Our knowledge of ADHD has grown tremendoously in the past decade. The ADHD Handbook for Schools contains chapters to help readers fully understand ADHD, assessment procedures, strategies critical for improving student learning and behavior, and new advances in medical and non-medical treatments. This is the kind of practical information educators need.
Contents
Chapter 1: Introduction: Children's Mental Health Services and the School's Vital Role
Chapter 2: Characteristics of Children with ADHD
Chapter 3: Causes of ADHD and Contributory Factors
Chapter 4: ADHD Across the Lifespan
Chapter 5: Assessing ADHD in Children and Adolescents
Chapter 6: An Overview of Treatments for ADHD
Chapter 7: MyADHD.com: An Internet-based System to Facilitate Assessment and Treatment of ADHD
Chapter 8: The School's Role in Providing Services for Students with ADHD
Chapter 9: Twenty Critical Ideas for Teaching Students with ADHD
Chapter 10: Classroom Interventions to Improve Behavior and Attention
Chapter 11: Medication Management of ADHD
Chapter 12: Addressing Academic Skill Problems
Chapter 13: Teaching Study Strategies
Chapter 14: Teachign Social Skills
Chapter 15: Teaching Students with ADHD and Other Mental Health Disorders
Chapter 16: Helping Parents Find the Right Help
Chapter 17: Helping Children with ADHD Understand Themselves Better
Appendix
References and Resources
News From ADD WareHouse and MyADHD.com
Learn about new books, treatment and assessment tools, ADHD research, articles, Q & A and more.
A.D.D. WareHouse
3150 Willow Lane, Weston, FL 33331

Call Mon-Fri 9:00 am to 4:30 pm
Phone: 954-412-1332
Fax 954-206-6955
© Copyright 2021- - A.D.D. WareHouse / Specialty Press Inc.