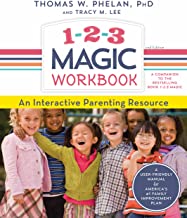 1-2-3 Magic Workbook
1-2-3 Magic Workbook is the perfect companion to the bestselling, award-winning book, 1-2-3 Magic.
Summary
This is a must-read for parents of young children and a great supplement to
1-2-3 Magic
.
1.Help your chiildren learn how to control their emotions and refrain from negative behavior, including tantrums, whining, and sibling rivalry
2. Encourage good behavior in your children and provide positive feedback
3. Strengthen your relationships with your children to reinforce the natural parent=child bond.
News From ADD WareHouse and MyADHD.com
Learn about new books, treatment and assessment tools, ADHD research, articles, Q & A and more.
A.D.D. WareHouse
3150 Willow Lane, Weston, FL 33331

Call Mon-Fri 9:00 am to 4:30 pm
Phone: 954-412-1332
Fax 954-206-6955
© Copyright 2021- - A.D.D. WareHouse / Specialty Press Inc.