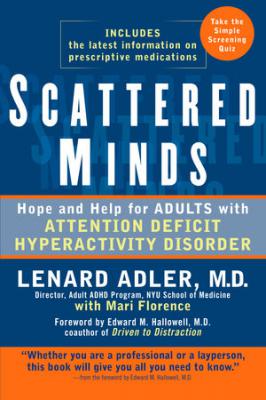 Scattered Minds
Wonderful for adults with ADHD written by world renown researcher and clinician, Lenard Adler, MD.
Summary
A practical, authoritative book on an increasingly talked-about condition that affects more than 8 million American adults.
Dr. Lenard Adler, director of the Adult ADHD Program at New York University School of Medicine, presents the latest findings on Attention Deficit Hyperactivity Disorder. In Scattered Minds, he reveals hidden warning signs, debunks common misconceptions, and offers information on obtaining an accurate diagnosis, along with treatment options that include cutting-edge medications and proven coping strategies. Includes a screening quiz.
News From ADD WareHouse and MyADHD.com
Learn about new books, treatment and assessment tools, ADHD research, articles, Q & A and more.
A.D.D. WareHouse
3150 Willow Lane, Weston, FL 33331

Call Mon-Fri 9:00 am to 4:30 pm
Phone: 954-412-1332
Fax 954-206-6955
© Copyright 2021 - A.D.D. WareHouse / Specialty Press Inc.